well actually this is my second attempt today at writing my blog.... the first one was all written and I click publish and .... and.... and... the computer/internet/something spat the chook and decided not to publish my blog, and instead erased all memory of it!
Its been so long since I posted that I forgot how annoying the blogland can be at times!
Ahhh well, never mind, couple-a-days!
So basically the first version was telling you guys about how we've moved house, been here just over a month.
The SOLD sticker went up on our old house and the Sold sticker went up on our new house.... with lots of nailbiting along the way.
We did the "ownsize the house and downsize the loan" thing, and I tell you I havnt looked back!
I love it here, the kids love it here and unfortunately so do the ants :)!!! argh
ITs great, 3 bedroom brick and tile, with 2 bathrooms (oohlalah luxury - I have an ensuite - never had one of them before), kitchen/dining, lounge with gas heating, pergola-paved area, huge garage, huge carport, raised garden beds, airconditioner!!! WOWOWOWOWOWO
like luxury... but with a few hitches - shocking paint job throughout! dodgy gas heater and stove, wood heater in a ridiculous place, watersoftener doesnt work, and the Tv aerial cost me a fortune to fix (more arghh's!!!) but other than that all is ok. THe place is definately looking lived in, and I am mostly all unpacked... but the sorting out is continuous.
Here is a piccie of the new home: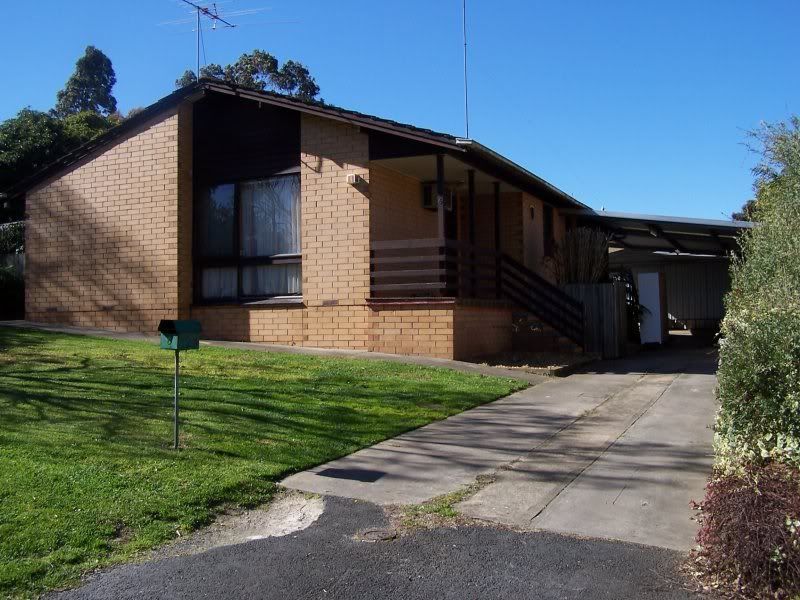 well its goodnight from me 4 now.... not far off midnight here and I NEED my beauty sleep!
cu round ere more often!